Have no fear. Switching will be easier than you think.
Before OnSIP: The phone system is a mystery, calls drop, it's hard to make changes, your teammates are frustrated.
After OnSIP: You're in control, it's clear how things work, there's no downtime, nobody is complaining.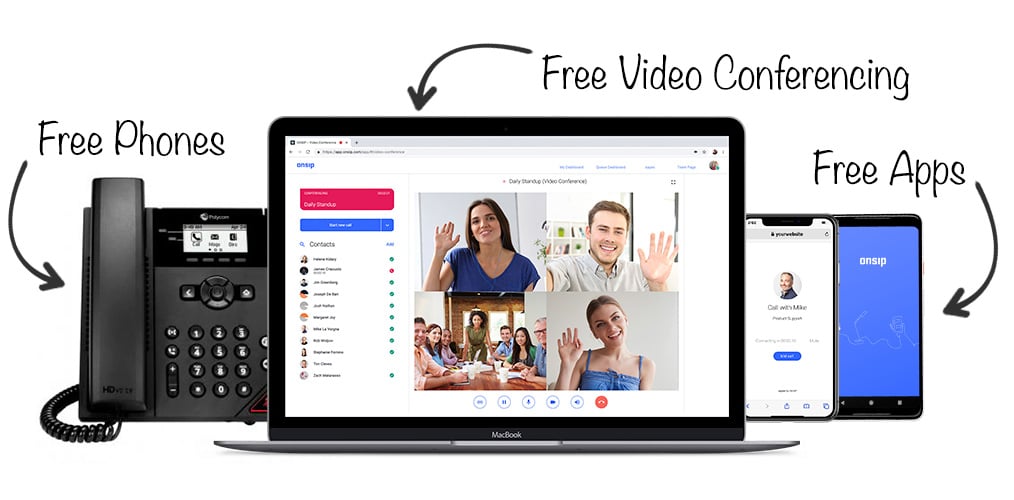 "Switching our phone numbers to OnSIP was so much easier than I expected.
They made sure we had ZERO DOWNTIME"
The process is simple
| Today | Up to 90 Days | When you are ready |
| --- | --- | --- |
| Secure a free phone number and phones to test, schedule a free setup session. | Use free phones and phone numbers to fully experience OnSIP. | We port your current numbers over with zero-downtime. |
Customers thrive when they switch their phone system to OnSIP.
"A dream! OnSIP gives us freedom and mobility we didn't get from our previous solution with the flexibility to easily add lines and work remotely."
- John Fretz, Partner, Berkshire Medical (switched to OnSIP December, 2006)
"Our OnSIP sales rep, Eden, explained how we could configure OnSIP to meet our needs in a simple, straightforward way, basically translating the jargon into something we could understand."
Erin Hendricks, Gauge Interactive (switched to OnSIP June, 2015)
"The service was incredibly easy to set up.
We now operate out of four different offices, three of them on a separate continent."
Ryan Fortune, Mentormate (switched to OnSIP April 2012)
"Configuring OnSIP requires little more than some phones, some ethernet cords, and the OnSIP Admin Portal.
...a great record of reliability. We've never had a problem with uptime."
Brian Sisolak, Trilogy Interactive (switched to OnSIP June 2012)
"After the trial we couldn't wait to roll out new phones to our entire staff.
Making changes in OnSIP's admin portal is a breeze (it's almost fun)!"
Todd Reifenrath, Co-founder, Webitects (switched to OnSIP August, 2011)